Caring for the most vulnerable, Part 1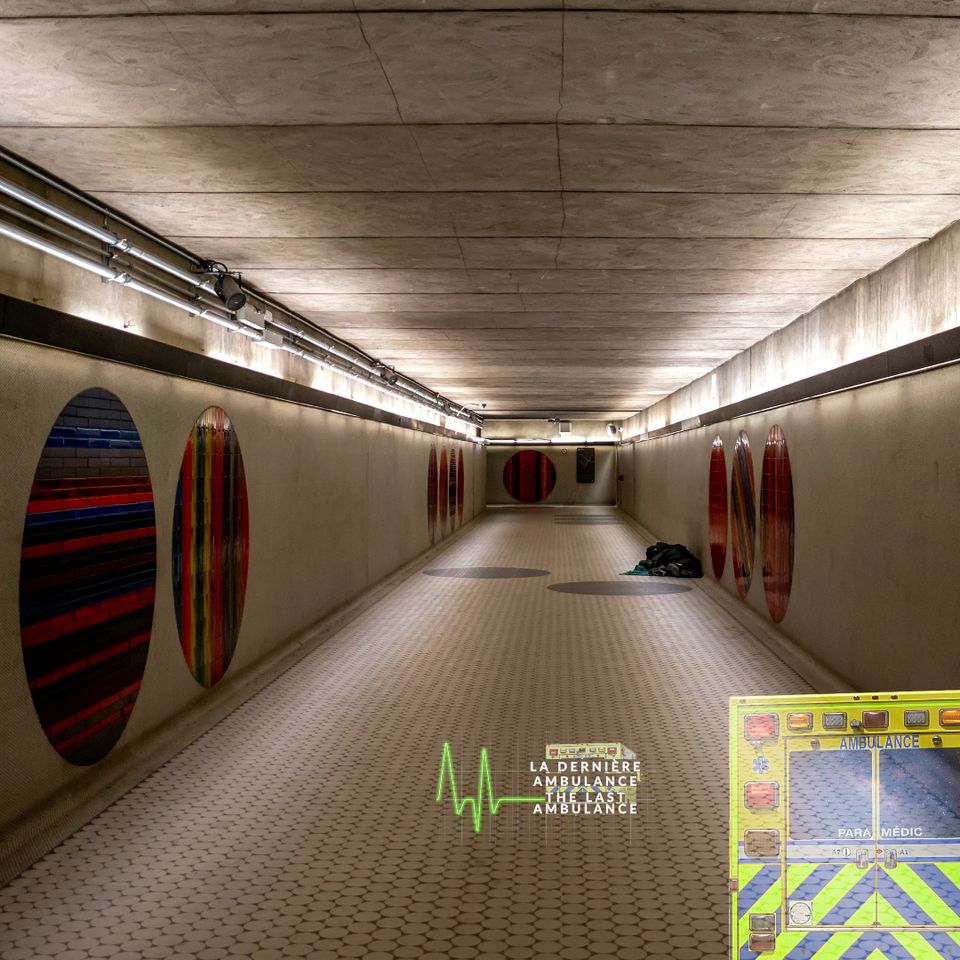 Part 1 of a series of articles about caring for the most vulnerable.
The roots for this story were planted late in July 2022.
The Last Ambulance project was still relatively nascent. Paramedics weren't sure what kind of stories we were covering or what they could or should tell us.
Late one night, a paramedic sent a text message. He was concerned about a patient. Except the patient wasn't his patient. The texts were confusing but it was clear this paramedic was very concerned about an unfolding situation.
Over the next several hours, he brought me up to speed. He and his partner had responded to a call in a downtown bus station about an emotionally disturbed person. While assessing the patient, they had become aware of a second patient – an elderly man – who was dressed only in a hospital gown. Homeless, he had been discharged from a hospital and was trying to make his way home to his family in an indigenous community of the North Shore of Québec.
Because of the paramedics' intervention and the help of several different agencies, the man was located and re-united with his family. When I told the paramedic who had texted me that I thought he and his partner were the real heroes in the story, he replied, "I know I have done something that most would not have done, but I don't think hero is the term for it. I still have a heart, critical thinking and Gros Bon Sens more than heroic capabilities. We aren't heroes. We are humans doing the right thing."
The next night shift, he and his partner helped deliver a baby. Just another week in the life of a paramedic.
---
I can remember the late Barry Tottle teaching me how to be a paramedic. "Remember, Hal, there are protocols and then there are patients. And sometimes, those protocols will align perfectly with your patients. But not often. When given a choice between your patient and your protocol, always – always treat the person. If that ends up being within protocols, that's a happy bonus."
Or as former paramedic Dr. Blair Schwartz told me, "In healthcare we all too often focus on disease. We focus on its pathophysiology, what our protocol tells us to do in response, or resuscitating to specific goals. Attaining clinical stability, or a semblance thereof is a primordial goal. However, when time allows, it is only by getting to truly know the person with the disease that you can ever hope to truly treat them."
---
"It's not because you have a roof over your head that you're worth more than this person. Be human and empathetic and show respect." - Alyson Caron, Urgences-sante paramedic.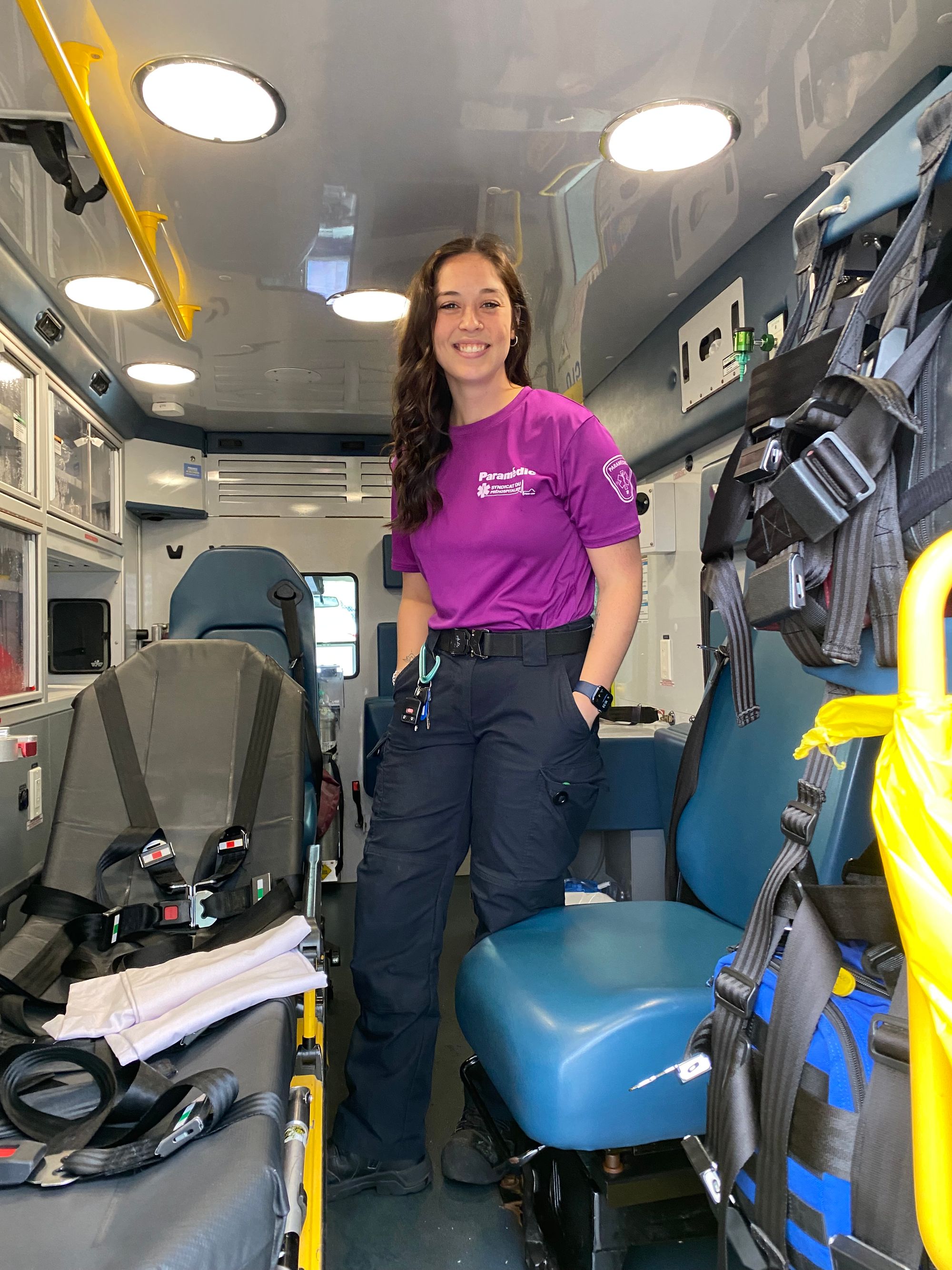 Alyson Caron is a paramedic with Urgences-santé.
I asked Alyson whether she interacts frequently with the homeless.
"Yes. So for me, when I start my shift, I like going downtown. I really love it. As soon as I get a 10-12 (standby) there I'm really thrilled and super excited. It's been like that since I started my career. The type of calls I do with the homeless, it varies, right. Any call for someone who is homeless for me means being as human as possible. Because I find they're very stigmatized by society, and as much as they are stigmatized, they have this… if you don't talk to them like a normal human person they'll know, they feel stigmatized – they're already on the defense. And so I find every time you go in there and say, "Hey Bud." It always works for me."
"I have a very good rapport with patients. There are cases where you can't have a good contact because they have other problems, but most of the time it's always good. We have good conversations. We go to the hospital, because often they need a bed. I appreciate my time with them so it's my pleasure to bring them to the hospital."
"I think paramedics have a good impact (with the most vulnerable) in our job on a day-to-day basis because we intervene with them a lot. Paramedics have this nice contact with them. And if we were to have eventually a Paramedicine Communautaire program for the homeless I think it would be absolutely incredible."
"The human contact and the empathy I have for these people and I have colleagues who have the same feeling – I think we would be the best place for these people because we see them regularly. We treat them regularly. People call because they're just sleeping on the curb. We get there and they (motioning to the imaginary ambulance in the room with us) say "Hey, it's warm in there" and we just talk to them. I think we already have a good contact... but if we had people who would just do that... I think that would be incredible."
I asked Alyson about her career - she's only three years into it and already has had some interesting experiences along the way.
"I worked in Kuujjuaq as a medic for AirMedic. It was absolutely incredible. I'm very lucky to have experienced that. I got hired in a moment when they were desperately looking and I was able to keep (my employment) at Urgences-santé and that at the same time. I got the best of both worlds. Going up to Kuujjuaq was very important to me to integrate with the community there. I got the chance to go to circus events where there's a school from Toronto and from Montreal who went to teach kids from Inukjuak so they could be one hundred percent independent in giving their own courses."
"So it was a bunch of experiences like that that made my whole experience in Kuujjuaq so phenomenal. Basically it was flight paramedicine. Our mandate was supposed to be from Up North to Up North but often we would go all the way to Montreal. That was interesting because I would have interesting conversations with the people from Kuujjuaq like for 6 hours. There's no typical call per se, honestly.. many medical, different medical reasons, required appointments – and they can't take their car to go to the specialized hospitals, right, so they take a flight."
When asked where she draws her philosophy for treating the most vulnerable members of the community, Alyson pauses. There's an intensity about her as she re-engages with the conversation.
"When I was in high school, throughout my whole high school, I went to church to do community service to help the homeless. We gave them food. It was like a foodbank, clothingbank. That's an experience I keep very close to my heart forever. I think that's maybe where my feelings for homeless people took root, I guess."
"Treat them like any other person."
Alyson pauses here because, as she says, "This is very important and I want to get it right."
"We all know that there are people who don't interact as well with homeless people. I think where it differs is the empathy that you show at first and that you're not higher than him. It's not because you have a house over your head that you're worth more than this person. If you go up about your job in the way and you're human and empathetic they will respect you. And that's the other thing – respect. Don't go there like, "Ohh, another one." Just treat them like any other patient. Because they are any other patient and they deserve just as much empathy as the elderly woman who lives in Mont-Royal. That would be my advice. Talk to them. Ask them, "How's it going? What do you need?" And not to judge."
"I was very fortunate go to (CEGEP) St-Hyacinthe (Emergency Prehospital Care Program). They put a lot of emphasis on social problems and how to best interact with people who are stigmatized. Because it's not just the homeless here in Montreal who are stigmatized. There are many other communities, e.g., LGBTQ+. It's very important to understand – but you can't understand if you're not experiencing this type of stigmatization. But you can try to. And as soon as you try to, you can make a difference in these peoples' lives. Some people call because they're having social problems, because they're going through gender transition – and that's really hard on them and causes anxiety. And if you go in with a judgmental approach, it's never going to work. You're just going to transport someone without talking to them.
"If you go there and you're empathetic and you create a good contact. Sometimes all they need to do is talk and I listen to them."