West Island response delay. Again.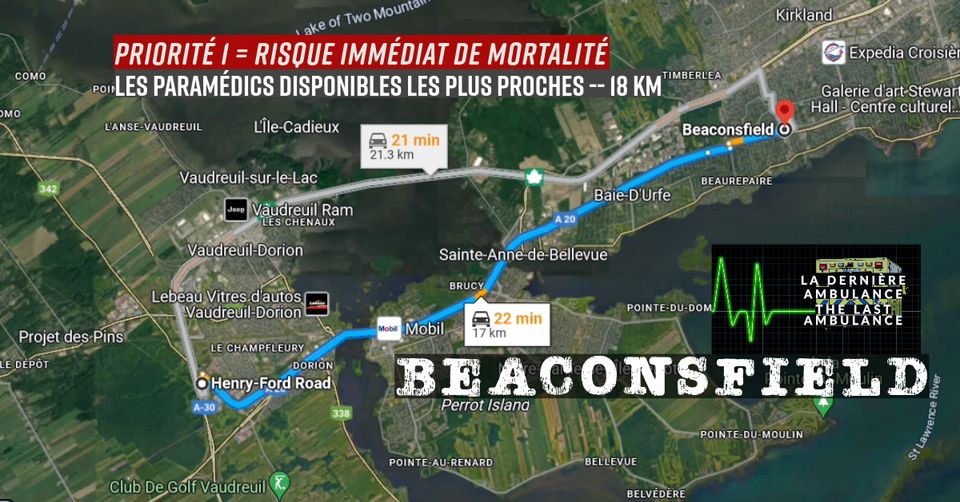 (2023-08-31)

Dans la nuit du 2023-08-29, un appel au 9-1-1 a été effectué à partir de la région de Beaconsfield dans l'Ouest-de-l'Île. Les répartiteurs médicaux d'urgence ont trié le patient en priorité 1. Priorité 1 = risque immédiat de mortalité. Les paramédics disponibles les plus proches ont été affectés à l'appel. Ils sont partis de Vaudreuil – à 18 km. L'accès local en temps opportun aux paramédics continue d'être un problème dans l'ouest de l'île de Montréal.

--

During the night of 2023-08-29, a call to 9-1-1 was made from the Beaconsfield area on the West Island. Emergency medical dispatchers triaged the patient as a Priority 1. Priority 1 = Immediate risk of mortality. The closest available paramedics were assigned to the call. They left from Vaudreuil - 18 km away. Timely local access to paramedics continues to be an issue on the West Island of Montreal.
--

Connaissez vos risques. Explorez notre carte des temps de réponse.
Know your risks. Explore our response time map.  
https://www.thelastambulance.com/temps-de-reponse-moyen-des-ambulances-pour-les-urgences-les-plus-critiques/