Copiez ceci et implémentez-le partout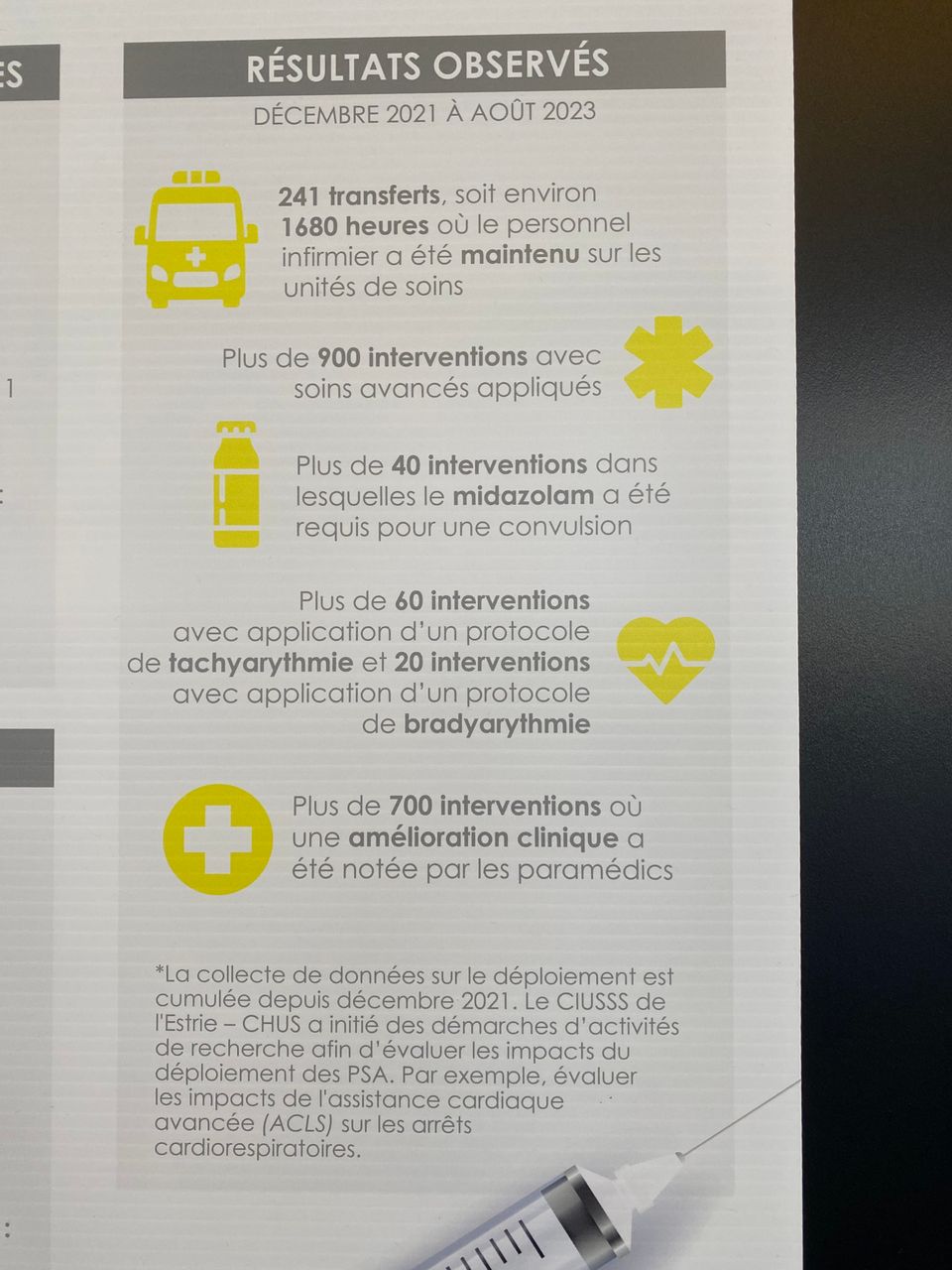 English version follows the french.
(28-10-2023)
La présentation la plus intéressante que j'ai rencontrée lors du Colloque urgence, préhospitalier et première ligne n'était pas sur scène.
C'était une affiche dans le hall. Elle évoquait les possibilités pour le système de santé si la sagesse et l'expérience des paramédics de soins avancés étaient pleinement exploitées.
Voici l'histoire d'un projet pilote aux avantages prouvés.
À partir de l'été 2021, des équipes de paramédics de soins avancés du la Coopérative de Travailleurs d'Ambulance de l'Estrie (CTAE) ont été déployées pour collaborer avec le CIUSSS de l'Estrie-CHUS, avec un accent sur les transferts interhospitaliers de soins critiques instables.
Les objectifs du projet étaient de maintenir le personnel infirmier dans leurs unités de soins plutôt que de les accompagner avec les patients dans l'ambulance ; de créer une liste de contrôle pré-transfert qui renforcerait la sécurité pour le patient et l'équipe de soins ; et de maximiser l'accès aux soins pour le patient avant et pendant le processus de transfert.
Le dernier objectif est important. Si un patient devient instable lors d'un transfert sans paramédics de soins avancés (ou leurs collègues infirmiers) à bord de l'ambulance, le patient devra être stabilisé dans une salle de réanimation du service des urgences de réception avant d'être transféré vers l'unité de soins de réception.
Avec les paramédics de soins avancés accompagnant le patient, il existe une continuité des soins critiques disponibles, et l'utilisation des ressources déjà surchargées du service des urgences peut être éliminée au profit du transfert direct du patient vers l'unité de soins de réception.
Le service est disponible de 08h du matin jusqu'à 19h15 en soirée, sept jours par semaine.
De décembre 2021 à août 2023, les paramédics de soins avancés ont accompagné les patients lors de 241 transferts, ce qui signifie que les infirmiers ont pu rester dans leurs unités de soins assignées pendant un impressionnant total de 1641 heures.
Bien sûr, je me suis demandé pourquoi ce service n'a pas été mis en place partout au Québec, en particulier là où les centres de santé régionaux transfèrent constamment des patients instables vers des unités de soins spécialisées.
Je me suis également demandé pourquoi cette affiche a été reléguée au hall et pourquoi les paramédics n'avaient pas été invités à présenter leurs découvertes et leur expérience sur scène dans le cadre d'une des présentations principales.
Je me demande toujours pourquoi nous ne célébrons pas leur succès et ne discutons pas de la manière de le reproduire ailleurs.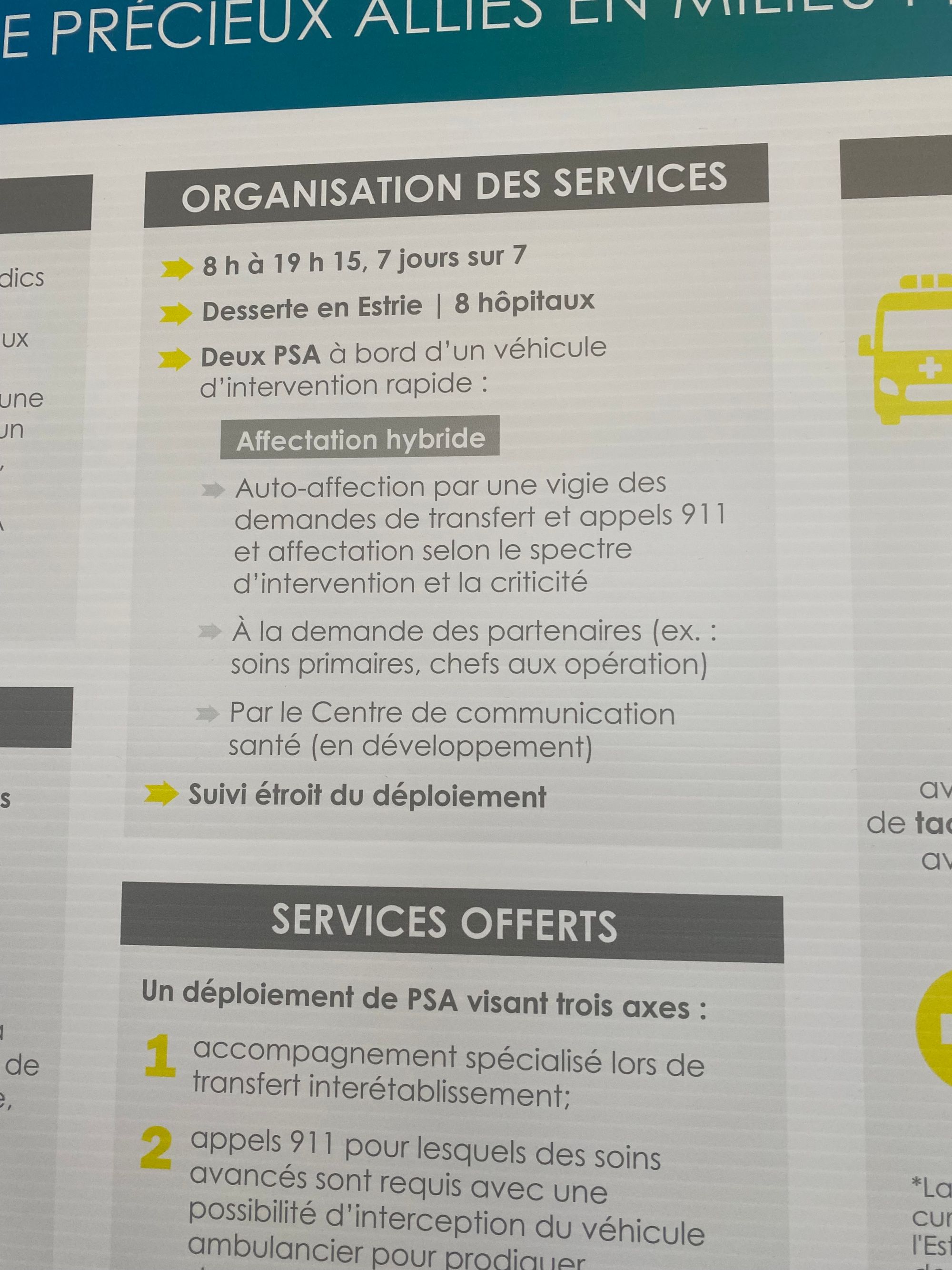 The most interesting presentation I encountered at the Colloque urgence, préhospitalier et première ligne wasn't on-stage. It was a poster in the lobby. It spoke to the possibilities for the health system if the wisdom and experience of advanced care paramedics were fully-leveraged.
This is the story of a pilot project with proven benefits. It should have been one of the presentation sessions.
Beginning in the summer of 2021, teams of advanced care paramedics from Coopérative de Travailleurs d'Ambulance de l'Estrie (CTAE) were deployed to work with the CIUSSS de l'estrie-CHUS with a focus on unstable critical care interhospital transfers.
The goals of the project were to keep nursing staff in their care units rather than having to accompany their patients in the ambulance; to create a pre-transfer checklist that would enhance the security for the patient and the care team; and to maximize access to care for the patient prior to and during the transfer process.
That last goal is important. If a patient becomes unstable during a transfer without advanced care paramedics (or their nursing peers) aboard the ambulance, the patient will need to be stabilized in a resuscitation room in the receiving Emergency Room prior to being transferred to the receiving unit.
With advanced care paramedics accompaning the patient, there is a continuum of critical care available and the usage of already overstretched ER resources may be eliminated in favour of the patient being transferred directly to the receiving care unit.
The service is available from 08H in the morning until 19H15 in the evening, seven days a week. Two advanced care paramedics respond to any of the eight (8) hospitals in the Estrie region in a rapid intervention vehicle.
From December 2021 to August 2023, advanced care paramedics have accompanied patients on 241 transfers which means that nurses were able to stay on their assigned care units for an impressive 1641 hours.
Of course, I was left wondering why this service hasn't been implemented right across Québec — especially where regional health centres are constantly transferring critically ill or unstable patients to specialty care units.
I also wondered why this poster was relegated to the lobby and why the paramedics hadn't been invited to present their findings and experience on-stage as part of one of the key presentations.
I'm still wondering why we weren't celebrating their success and talking about how to emulate it elsewhere.