Limousines ou ambulances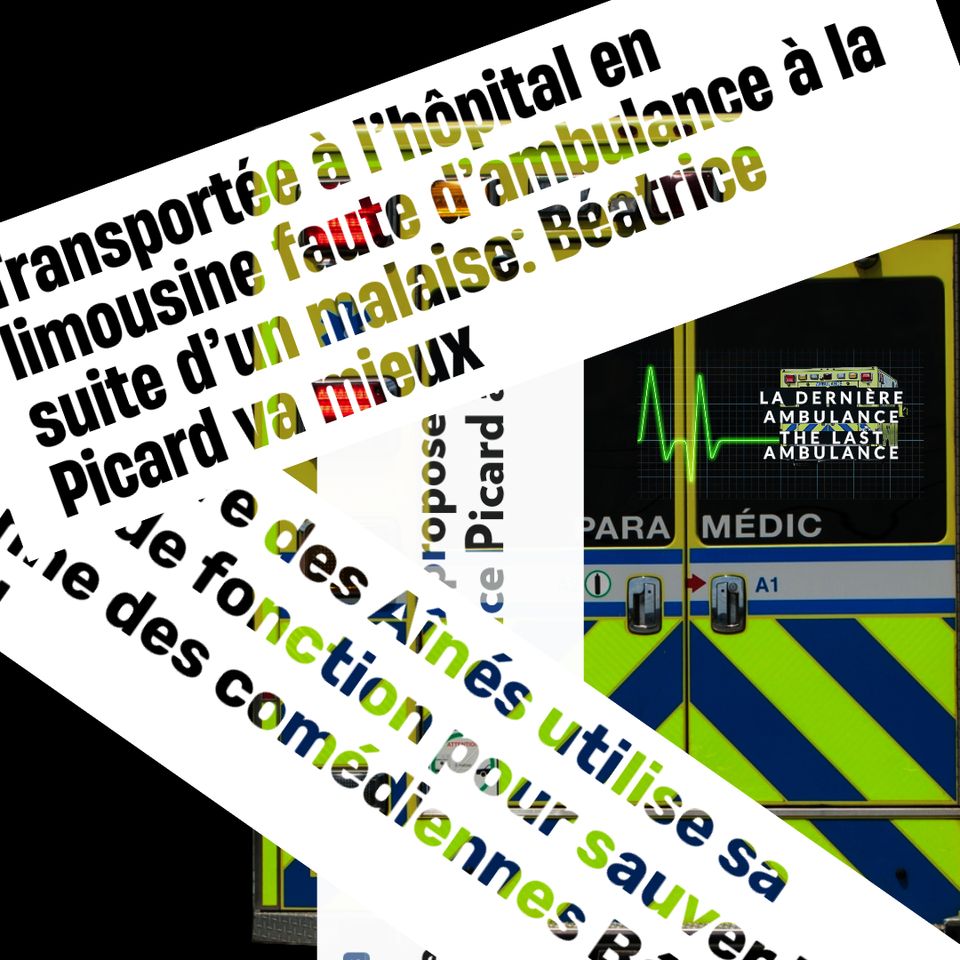 (2023-09-29)
The english version follows the french
Je ne suis pas opposé à l'idée que Sonia Bélanger, ministre responsable des Aînés, ait utilisé sa limousine pour transporter une personne aux urgences de Saint-Jérôme. Le ministre Bélanger, fort de plusieurs années d'expérience sur le CA d'Urgences-santé, a bien compris que lorsqu'on l'informe qu'il y aura un délai important avant que les paramédics puissent intervenir sur les lieux avec une ambulance, elle doit intervenir.
Ce n'est certainement pas la première fois qu'un véhicule autre qu'une ambulance avec des soignants autres que des paramédics est utilisé pour transporter quelqu'un aux urgences. La SQ a transporté des personnes dans un état critique vers les urgences de la région de l'Abitibi-Témiscaming. La police de Granby a transporté les personnes dans un état critique à l'hôpital plutôt que d'attendre les ambulances avec des délais d'intervention prolongés. Et je sais que les SMU de Côte-Saint-Luc ont transporté beaucoup de personnes aux urgences dans les années 1990 — parce que c'est moi qui ai autorisé ces transports.
Juste pour que ce soit clair : je ne suis pas opposé à ce que les individus et les organisations prennent les mesures nécessaires pour prendre soin de leurs communautés.
Si cela ne tenait qu'à moi, je permettrais, j'encouragerais — chaque
municipalité d'embaucher des paramédics et de leur permettre d'opérer comme paramédics avec des véhicules d'intervention et de transport.
Je mettrais en place des mesures législatives qui les obligeraient à bien les payer, à bien les traiter, à bien les loger et à leur permettre d'avoir des horaires de travail qui permettent un véritable équilibre entre travail et vie privée. Je les impliquerais dans les soins préventifs et communautaires afin qu'ils ne se contentent pas de répondre aux urgences, mais qu'ils fassent partie de la communauté.
Imaginez si les paramédics se sentaient appréciés, respectés et validés pour avoir choisi un cheminement de carrière qui mène réellement à autre chose que la réinvention professionnelle après cinq ans de travail. Imaginez à quoi cela ressemblerait pour les paramédics, les étudiants paramédicaux et pour les communautés qu'ils serviraient.
Nous aurions tous — nous tous — enfin accès au système de soins préhospitaliers d'urgence que nous méritons tous si richement.
D'ici là, nous devrons compter sur la bonne volonté et la réflexion décisive des individus pour réagir face à une litanie d'échecs d'un système de soins préhospitaliers d'urgence avec un manque chronique de leadership, d'imagination et de la créativité.
Nous sommes passés de la réflexion sur l'impossibilité d'avoir une ambulance à chaque coin de rue à la question de savoir s'il y aura un ministre et sa limousine disponibles pour transporter quelqu'un qu'on aime.
Version audio (uniquement en français):
---
I'm not opposed to the idea that Sonia Bélanger, Ministre responsable des Aînés, used her limousine to transport a person to an ER in St-Jerome. Minister Bélanger, with years of experience on the C.A. of Urgences-santé, clearly understood that when advised there would be a substantial delay before paramedics could respond to the scene with an ambulance she needed to take action.
It's certainly not the first time a vehicle other than an ambulance with caregivers other than paramedics has been used to transport someone to the ER. The SQ have transported people in critical condition to ERs in the Abitibi-Témiscaming region. The Granby Police have transported people in critical condition to the hospital rather than wait for ambulances with extended response times. And I know Côte Saint-Luc EMS transported a lot of people to the ER back in the 1990s - because I was the person who authorized those transports.
Just so we're clear : I'm not opposed to individuals and organizations taking the necessary steps to care for their communities.
If it were up to me, I'd allow – I'd encourage – every municipality to hire paramedics and enable them to operate as paramedics with both response and transport vehicles. I'd put legislative measures in place that would require them to pay them well, treat them well, house them well, and allow them to work schedules which allow for a real work-life balance. I'd get them engaged in preventive and community care so that they weren't just responding to emergencies but would become part of the community.
Imagine if paramedics felt appreciated, respected, and validated for choosing a career path that actually led somewhere other than professional reinvention after five years on the job. Imagine what that would look and feel like for paramedics, paramedic students and for the communities they would serve.
We'd all - all of us – finally have access to the emergency prehospital care system we all so richly deserve.
Until then, we're going to have to rely on the good will and decisive thinking of individuals to react in the face of a litany of failure of an emergency prehospital care system with a chronic and ever-deepening lack of leadership, imagination, and creativity.
We've gone from musing on the impossibility of having an ambulance on every street corner to wondering if there will be a Minister and their limousine available to transport someone we love.
---
Si vous souhaitez contribuer au maintien La Dernière Ambulance en fonctionnement, envisagez de souscrire un abonnement payant. Notre journalisme indépendant a besoin du soutien de cette communauté !
If you want to help keep The Last Ambulance in operation please consider starting a paid subscription. Our independent journalism needs this community's support!